The Little Tucked Dress
A while ago I was looking for patterns that would suit my figure. I usually look good in clothes that fit tightly since I'm so thin, but on the other hand, tight clothes sometimes make me look like I haven't got any curves. Not this pattern. Oh no.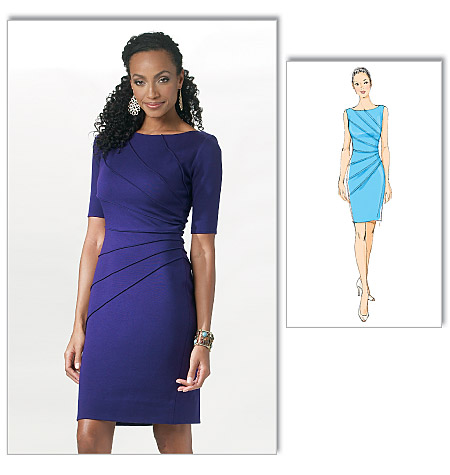 I was looking through sewing pattern review when I noticed it, an intriguing, simple stile, made up by lots of different people but always with amazing results. hugging the right places and drawing the eye in a very flattering way, on everyone. the look is also casual enough for work, or just about anything, but still so sexy that you will definitely turn some heads. It can be dressed up or down with accessories to your liking. It's like a little tucked dress, everyone should have one!
Ok, enough raving enthusiasm. The pattern I'm talking about is Butterick 5559. Its a close fitting dress made out of a strech fabric of your liking. It has some very nice sunburst pleats that make the look stand out. The lines of the dress are really simplistic, a swallow boat neck and the option for a sleeved or sleeveless version.
since the design features such prominent tucks I was a bit nervous about doing them. I had never done anything like that before. Previous reviews told me to take especial care while marking the lines. sewing them turned out to be surprisingly simple. I marked all lines with carbon paper and transferred the lines with pins to the good side of the fabric. Matching up the pins meant matching up the lines. then it was just a matter of carefully sewing down every tuck. I didn't need any additional explanations besides what was already in the pattern, so that's a surprising change. I sewed the whole dress in little over a day, cutting included so this dress came together fabulously easy for me. the hardest part was definitely getting the tucks to line up in the side seam. It took some tries especially for the waist tuck, but I finally got it almost right. Good enough for me :)
I used a stretch knit for this project. It has a weird kind of creases in it, witch I don't really like and feels velvety on one side. It's very comfortable and warm and hides all imperfections. It was a lucky find on a discount shelve so I have no idea what kind of fabric it actually is.
I didn't have to make a single adjustment for this pattern. No need to change perfection, wouldn't have known how to deal with changing the tucks and darts on this one anyway ;). Well actually I might have tampered with the hem length. In the end I just left my dress unhemmed, but I can't remember whether I had planned to shorten it or not.
To conclude:
This pattern seems to never disappoint. It was easy to make and the result is pretty nice. It's a shame that the pattern has been discontinued recently. If you get the chance to grab your own, do so you won't regret it.
Personally I would already love to have a second version in a more neutral colour, maybe gray. It feels super comfortable on and I have gotten lots of compliments with this dress. It's really not such a complicated design as it appears to be.
And the design is just perfect, I love the tucks as they give the dress a very distinguished look. I'd also seen lots of reviews of this pattern and every single dress looked stunning. Also I love the hidden darts. It felt like cheating hiding them in the tucks. Dresses like this are generally flattering for my figure but this dress has a huge wow factor. It somehow enhances everything that needs to be enhanced and magically looks awesome on everyone!
Some more pictures:
Labels: butterick 5559, Pattern review